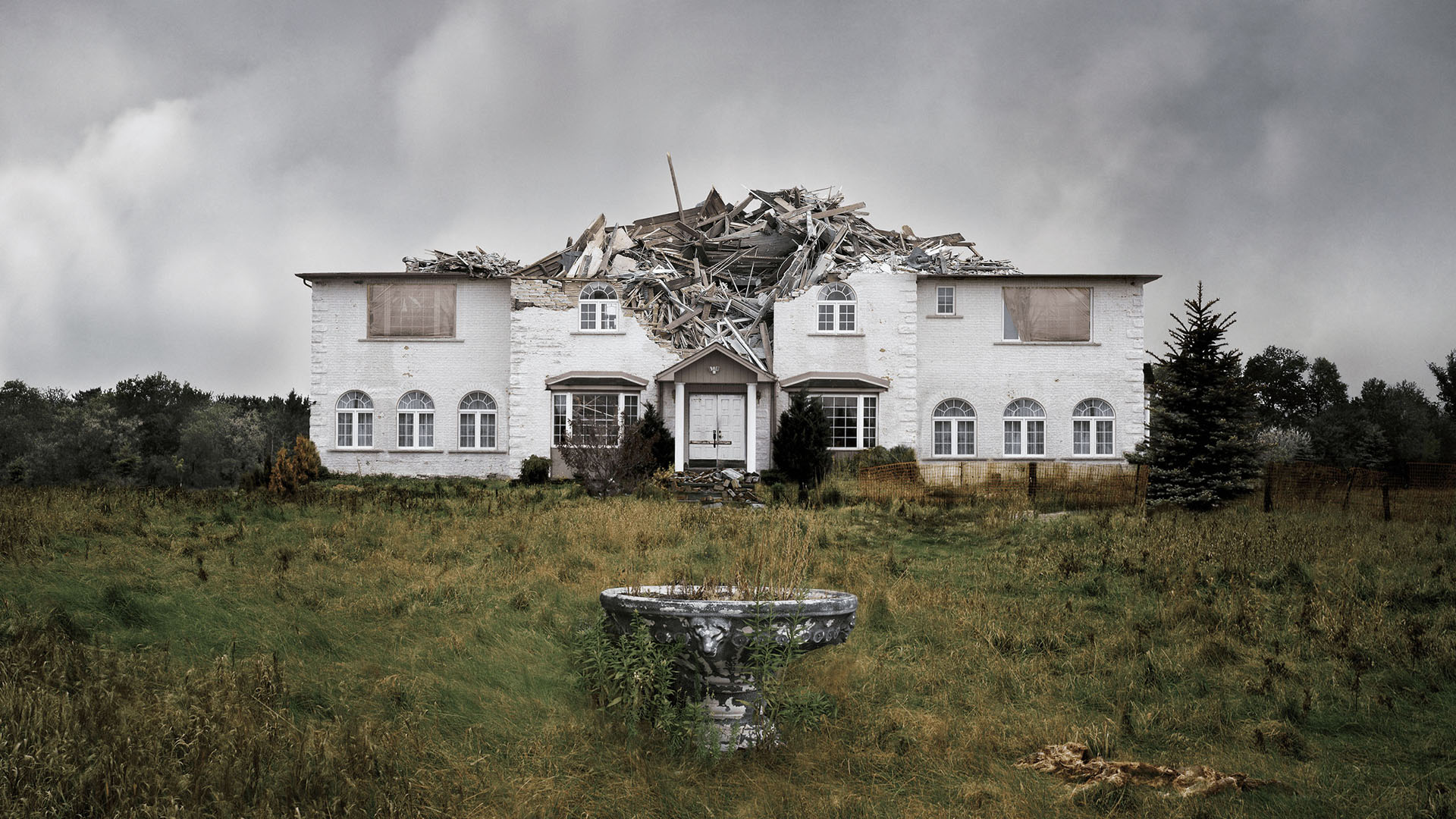 AGG Grand Reopening
AGG Presents: Of Time and Buildings, The Queer Feeling of Tomorrow, Titled Untitled, and ART/CRAFT 2015.
Download PDF

On Thursday, September 17 at 7pm, the Art Gallery of Guelph will open its doors again, following the successful completion of a four-month construction project at the main entrance to the gallery. While the crews of stonemasons, woodworkers, and landscapers (and a host of other trades) have been restoring the historical porch, repairing the sewer lines, and rebuilding the accessibility ramp, AGG staff have been hard at work in preparation for the grand reopening of the gallery.
In addition to a new name, a new look, and a new website (coming soon), AGG will launch four new exhibitions on September 17th:
Of Time and Buildings
September 17 to November 1 , 2015
Presented by AGG in partnership with George Eastman House (Rochester), considers space, place, and time as expressed in 48 photographs created before and after the digital turn, including works by contemporary artists Feng Bin (China), John Divola (USA), Susan Dobson (Canada), Odette England (Australia), Eirik Johnson (USA), Jeff Chien-Hsing Liao (Taiwan), Lori Nix (USA), Sam Sweezy (USA), and Marc Yankus (USA).
The Queer Feeling of Tomorrow
September 17 to December 13, 2015
Curated by Adam Barbu, winner of the 3rd Annual Middlebrook Prize for Young Canadian Curators, explores themes of doubt, resilience, and political agency through the work of six contemporary artists: Sunil Gupta (London UK), John Hanning (Brooklyn USA), Shan Kelley (Montreal), Julia Martin (Ottawa), David Poolman (Toronto), and Laurel Woodcock (Toronto).
Titled Untitled
September 17 to December 13, 2015
Explores the diverse ways in which artists, historical and contemporary, have rendered art works that are Untitled and what messages, named or not, are revealed to the viewer. Featuring paintings, drawings, and prints, selected from the Art Gallery of Guelph and University of Guelph collections, by the following artists:
Syollie Amituk, Cathy Daley, Louis de Niverville, Robert Flack, Adolf Gottlieb,
David Harper, John Heward, Kiakshuk, John Kissick, James Lahey, Ray Mead, Zhou Nan, Nick Ostoff, Charles Playfair, Don Russell, Susan Schelle, Tony Scherman, and Brian D. Tripp.
ART/CRAFT 2015
September 17 to November 14, 2015
AGG's major annual fundraising event that features over 30 works by regional artists in an eight-week long exhibition that will conclude with a live art auction on Saturday, November 14.
Tickets: Student $50 / Auction Party $125 / Art Collector $1,000
Image details: Susan Dobson, Untitled, from the series Sense of an Ending, 2013, C-print. Loan from the artist