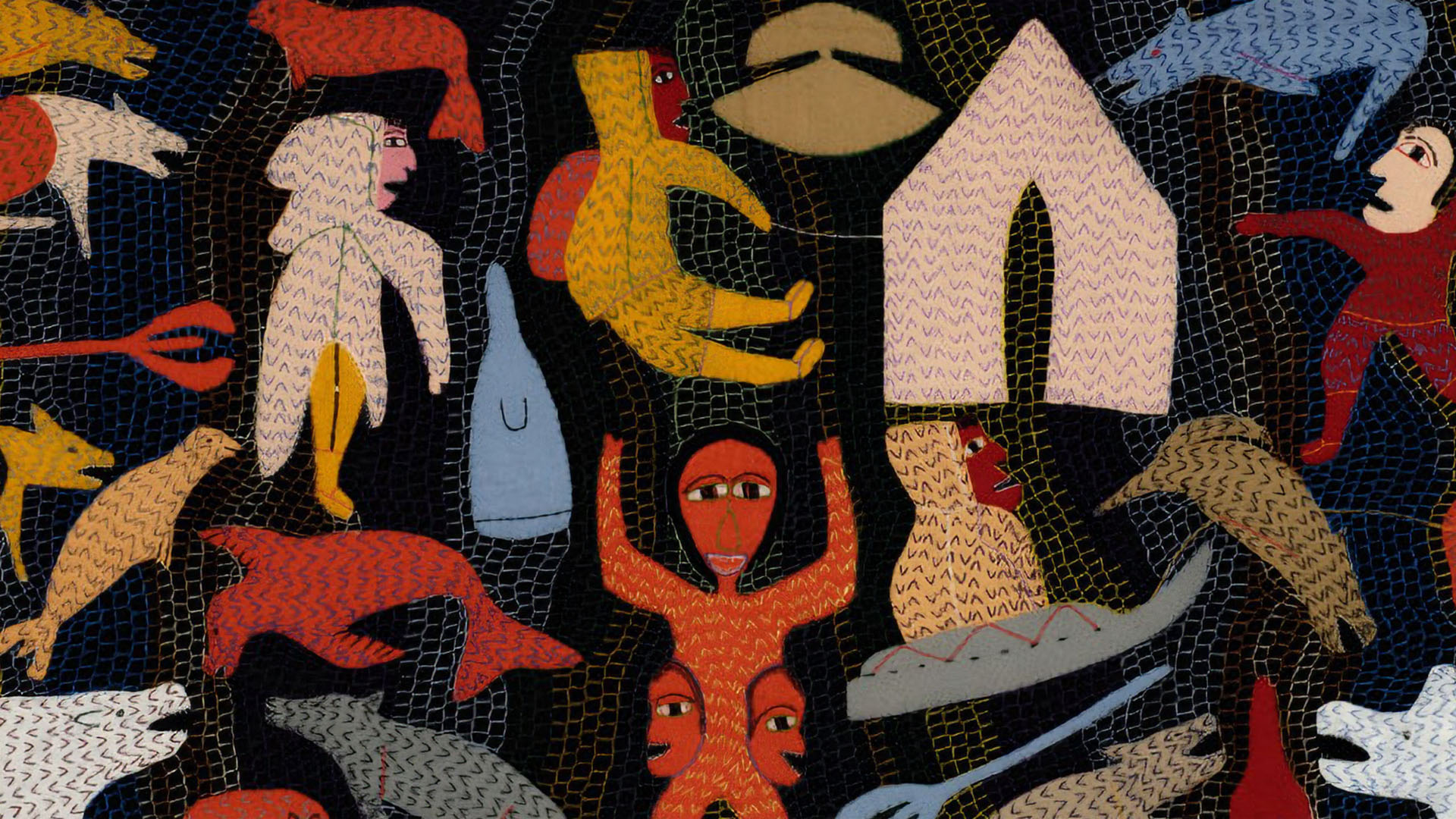 AGG presents Spring/Summer 2016 Exhibitions
AGG Presents: Rock, Paper, Scissors, A Sense of Order, and Grapple.
Download PDF

The Art Gallery of Guelph will celebrate the opening of three new exhibitions on Saturday, May 7 at 2 pm with a public wine and cheese reception: Rock, Paper, Scissors, John Haney: Grapple, and Paul MacIntyre: A Sense of Order.
Rock, Paper, Scissors
May 7 to July 31, 2016
Largely curated from the AGG's permanent collections, Rock, Paper, Scissors highlights works in a broad range of media by contemporary Inuit artists from across Canada, including:
Stone and bone sculpture by artists such as Abraham Anghik Ruben (born Paulatuk, lives Salt Spring Island, BC), Michael Massie (born of Inuit, Métis, and Scottish heritage in Happy Valley Goose Bay, Newfoundland), and David Ruben Piqtoukun (born Paulatuk, lives Toronto).
Works on paper by Irene Avaalaaqiaq (Qamani'tuaq, Nunavut), Annie Pootoogook (born Kinngait, Nunavut, lives Ottawa), and Kananginak Pootoogook (1935-2010, Kinngait, Nunavut) among others.
Wall hangings, including woven, embroidered, and appliqué examples, by artists including Victoria Mamnguqsualuk (Qamani'tuaq, Nunavut), Simona Scottie (Qamani'tuaq, Nunavut), and Marion Tuu'luq (1910-2002, Qamani'tuaq, Nunavut).
Paul MacIntyre: A Sense of Order
May 7 to July 31, 2016
Working primarily in drawing and collage, Paul MacIntyre investigates the ideological implications of labour and the perpetuity of the hand in art making in his solo exhibition A Sense of Order. Using historical precedence as a filter for scrutinizing the contemporary, he culls images, motifs, and practices from the past and re-frames them as his own. Lately, he has been preoccupied with the psychology of "filling-in" as a conceptual starting point. Meditating on the modern phenomena of the pictorial grid in Western art, he is interested in the simultaneity of filling and emptying, of the infinitely repeating pattern, and of the physically defined boundaries of mark and ground. By deconstructing reproductions of Albrecht Dürer's Apocalypse woodcuts and re-contextualizing the fragments, his practice takes on a precarious lineage of anxiety and hermetic idealism in art, appealing for a contemporary voice for lingering ideological sensibilities.
Artist Biography
MacIntyre received his BFA with distinction from the University of Victoria in 2012 and has recently completed the final semester of his MFA at the University of Guelph.
John Haney: Grapple
May 7 to July 31, 2016
In the exhibition Grapple, John Haney presents multiple works that respond to a mysterious object he found on a Newfoundland beach. The object turned out to be a severely rusted, hand-made anchor. Haney's use of alternative photographic processes and semi-abstract images — both positive and negative iterations of the photogram — is an attempt to reinvigorate and preserve the degrading object, and to reanimate it in the process of image-making. Through multiple iterations of its shadows, the relic of the anchor becomes a rich metaphor; at the same time, in its mysteriousness, it slows the viewing process, asking us to find understanding in the midst of an image culture that is at once overloaded with information, and wanting for meaning.
Born in Toronto, Haney has lived between Ontario, New Brunswick, and Newfoundland, all places which have heavily informed his work. He was long-listed for the 2011 Sobey Art Award in the Atlantic category, and was nominated for the Scotiabank Photography Award in 2012. His work has been shown in Canada, the U.S, and Germany. He earned his BA from Mount Allison University in 2001 and is currently an MFA candidate at the University of Guelph.