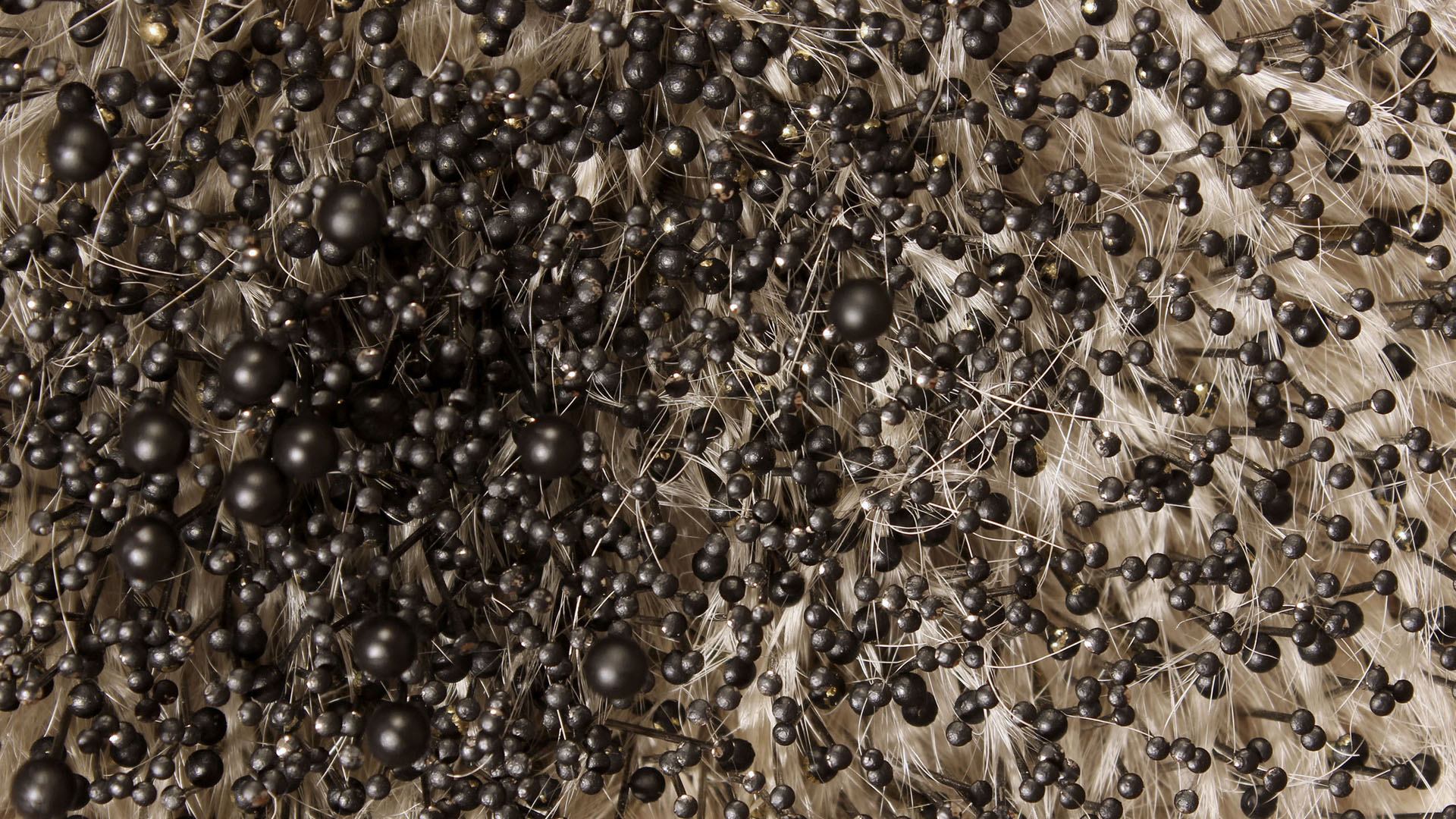 AGG presents Winter 2016 Exhibitions
AGG Presents: Out of the Strong, Something Sweet, Distant Grounds, Artists at Riverside Studio, and Berlin 2013/1983.
Download PDF

Join us on Thursday, January 21 at 7 pm for the opening reception of the Winter exhibition program.
Cole Swanson: Out of the Strong, Something Sweet
January 21 to April 10, 2016
Toronto artist Cole Swanson examines profoundly complex trans-species relations, specifically the intersections between human, bee, and bovine biologies. Out of the Strong, Something Sweet features large scale installations of animal bodies, premodern art forms, sculptural media, and emergent technologies. In contrast to the symbols and metaphors that demonstrate the social construction of the animalother, Swanson incorporates audio recordings of cattle and bees, which claim space in the exhibition for the distinctly non-human. Swanson's practice is informed by his research on miniature painting, the preparation of organic and mineral-based pigments, and materiality and modernity in contemporary culture, conducted through two fellowships at the Shastri Indo-Canadian Institute in Jaipur, Rajasthan (2007, 2014).
Stu Oxley: Distant Grounds and Artists at Riverside Studio
Long known for his exquisite intaglio monoprints, master printmaker Stu Oxley (Elora, ON) has shifted his practice to include large-scale painting. The survey exhibition Distant Grounds reveals Oxley's innovations in colour and form in both mediums. His paintings and prints contain atmospheric washes of rich colour, with drips and marks emphasizing the artist's hand and interrupting the works' subtle tonal shifts. Presented by AGG in partnership with the MacLaren Art Centre (Barrie), Distant Grounds is the first solo exhibition of Oxley's paintings to be shown in Guelph.
On display in conjunction with Distant Ground, the exhibition Artists at Riverside Studio represents the spectrum of artists Oxley has worked with over the course of his print practice. Featuring works produced between 1980 and 2015 by these nineteen artists: Walter Bachinski, Carl Beam, Brian Boigon, Joe Fafard, Ted Fullerton, Richard Gorenko, John Hartman, Stephen Hutchings, John Kissick, Marie Lannoo, Margaret Priest, Cheryl Ruddock, Tony Scherman, Neil Shawcross, Ron Shuebrook, Doug Stone, Frances Thomas, Tony Urquhart, and Tim Zuck. Artists at Riverside Studio is co-curated by Stu Oxley and Emily McKibbon (MacLaren Arts Centre).
Daniel Young & Christian Giroux: Berlin 2012/1983
January 21 to April 3, 2016
This exhibition features an ambitious new work by Sobey Art Award Winners (2011) Daniel Young (Berlin, DE) and Christian Giroux (Guelph) that continues their collaborative program of conceptual installations and represents the artists' preoccupation with the built environment. Documenting architectural construction in Berlin, Young and Giroux pair images of new buildings with those erected during the era of the divided city. Described by the artists as a "rigorous dérive," the installation situates itself firmly in a spatio-temporal realm, straddling significant geopolitical events but offering no overt commentary on them. Rather, Young and Giroux take a formal approach that foregrounds the rhythmic, serial presentation of images as a metaphor, perhaps, for the medium itself. Berlin 2012/1983 is presented by AGG in collaboration with Ed Video Media Arts Centre (Guelph).