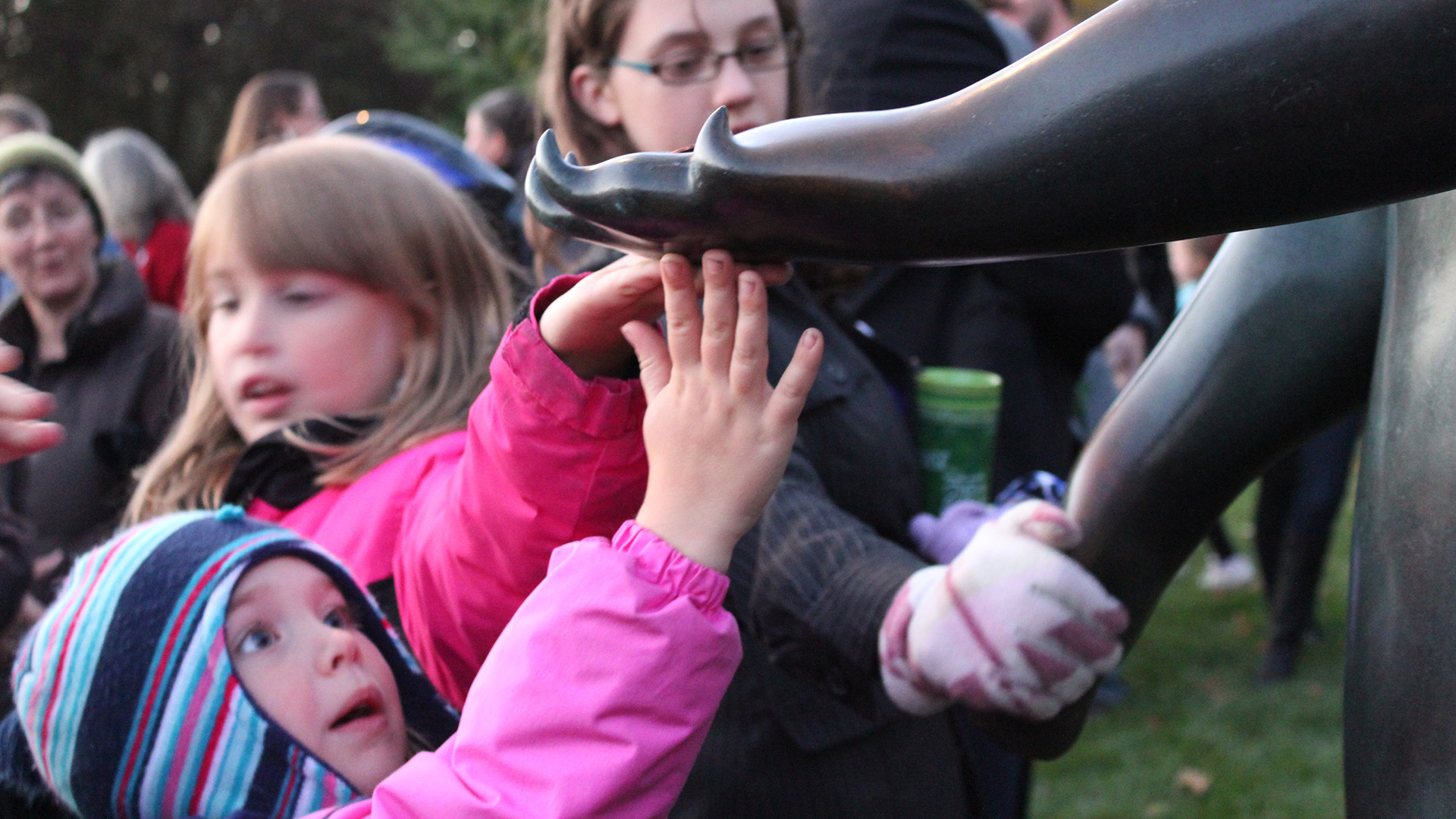 School Programs
Schedule a school or community tour at the AGG!
Location
358 Gordon Street Guelph, ON N1G 1Y1
AGG welcomes learners of all ages and stages for facilitated exhibition tours and lively discussion. Tours are ideal for teachers looking for a field trip to complement in-class learning or community groups interested learning more about visual literacy and contemporary art.
The gallery's tour programs deliver a unique opportunity to learn from exposure to original works of art within the gallery context, providing an enriching educational and community building experiences, while promoting the enjoyment and understanding of artistic practices and contemporary culture. From January through May 2023, AGG's exhibitions explore the intersection of visual culture and social movements in support of equity, justice, and democratic participation. Featuring artwork that exists both in the material world of streets and squares, as well as virtual platforms used for globalized mobilization, both carry rich substance and significance in 21st century activism.
Tour Contact
For information and to book, contact Nicole Neufeld, Community Engagement Coordinator, at nneufeld@artgalleryofguelph.ca or 519-837-0010 x2.
Details
Reservations
Advanced registration is required for guided tours. To book your guided tour, please contact info@artgalleryofguelph.ca or 519-837–0010 x2. Please provide the following information when requesting a tour:
School or affiliated group, if applicable
Number of participants
Grade level or age range of participants
Any accessibility considerations
Preferred time of day and day of week. To facilitate booking, please provide up to three options.
Self-guided visits are welcome, but advance notice is recommended for groups of 15 or more to avoid conflicts with other groups.
Cost
$5 per person for community groups.
$2 per student for subsidized School Tour visits from the Upper Grand District School Board and Wellington Catholic School Board.

Educators are responsible for student supervision: all educators and supervisory volunteers are welcome at no additional cost
Hours
Guided tours may be scheduled Monday to Friday between 9:30 am and 4:00 pm. Weekend and evening tours are available by special request.
Parking
Free parking is available at the AGG for gallery visitors. Buses may drop-off and park in the AGG parking lot.
Accessibility
The Art Gallery of Guelph is a partially accessible facility. All exhibition spaces and restrooms are wheelchair accessible.
There is a ramp leading to the front door from the parking lot and an elevator to access all floors and facilities. Wheelchair accessible washrooms are on the basement level with elevator access.