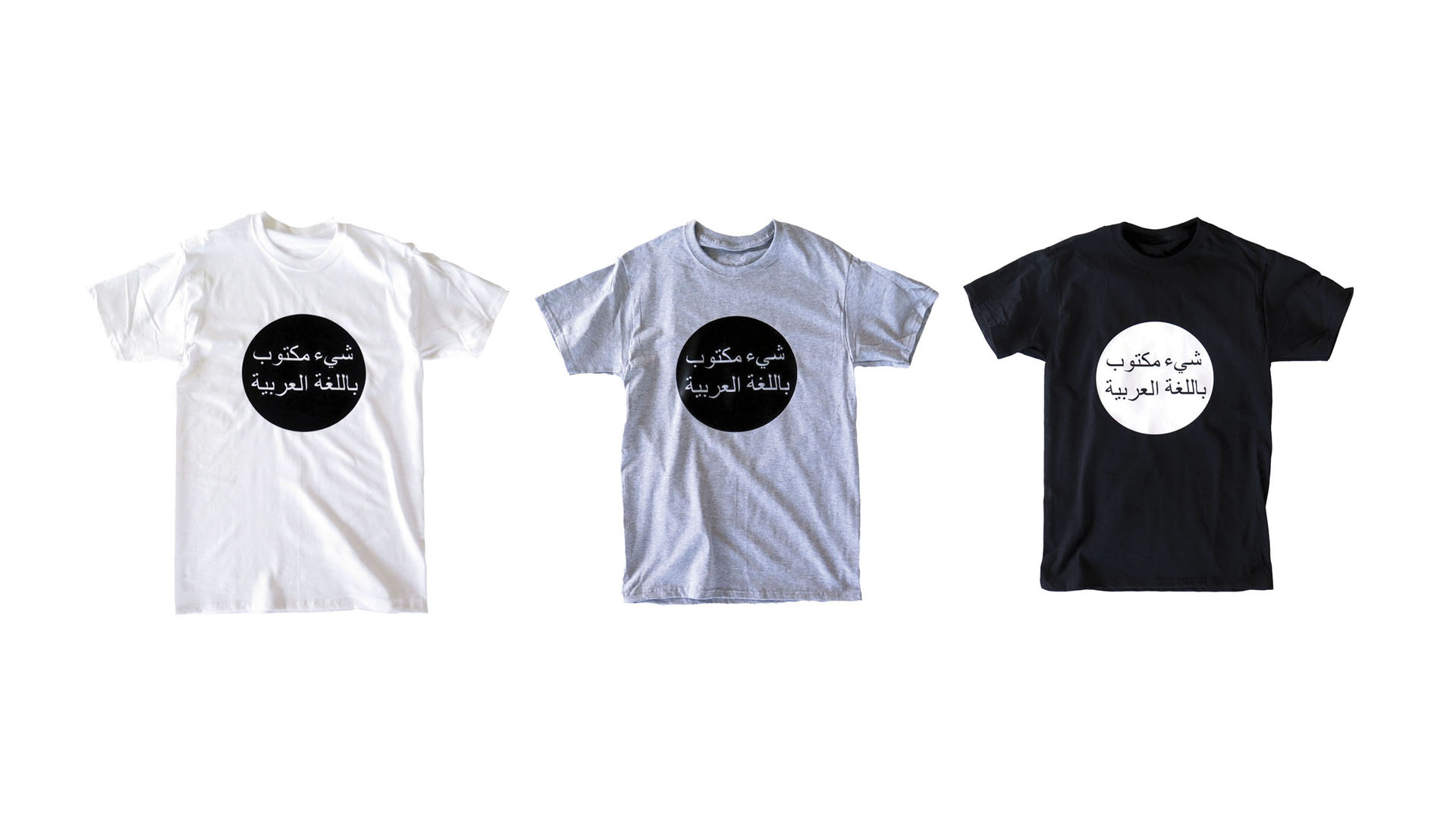 May 4.2017
August 27.2017
Featuring the recent work of artist Hiba Abdallah, Th'an explores the Arabic language through the lens of art as social practice. Fusing interests in community engagement, design, and language, Abdallah employs tactics of public intervention to emphasize the marginalization of the Arabic culture.
In Arabic, the word Th'an means to be suspicious and, simultaneously certain, of something or someone. Abdallah uses this dichotomy within the exhibition to transform the gallery space into the headquarters for a fictional firm called "The Arabic Consultants." The firm's function is to embed the Arabic language in public and private spaces through site-specific projects involving the community's participation. Abdallah uses the consultancy as a means to undo, re-envision, and document the various dispositions of how Arabic is encountered across the local landscape.
Th'an both simplifies and complicates our relationship to Arabic at a time when the language and culture are so heavily contested. Employing a graphic design aesthetic, Abdallah adopts the strategies of corporate branding in her line of monochromatic T-shirts emblazoned with an Arabic logo. The Arabic writing on the shirts literally translates into "Something Written in the Arabic Language" – a distinctly apolitical message embedded within a culturally loaded script.
The exhibition also includes Abdallah's ongoing participatory project comprised of three hundred metal signs that each read Welcome to Guelph in Arabic. Abdallah asks members of the local community to participate in the welcoming of Syrian refugees to Guelph by displaying one of the signs on their property (home or storefront window, for example) as an act of solidarity. Over the course of the exhibition, Abdallah will disseminate the remaining signs throughout Guelph.
Abdallah's instructional work, titled Utterance, is also featured as a video installation. Utterance entails the ongoing facilitation of free Arabic lessons to the public, taught via Skype by Syrian refugees who are displaced in different parts of the world. Over the summer, the gallery will offer free Arabic lessons, facilitated by Abdallah.
About the artist
Hiba Abdallah
Hiba Abdallah has lived most of her life in Windsor, Ontario, a city that has heavily influenced her interest in the convergence of art and social practice. She is part of the artist collective Broken City Lab, which was long-listed for the 2011 Sobey Art award. She completed a BFA at the University of Windsor in 2012 and is currently an MFA candidate at the University of Guelph.