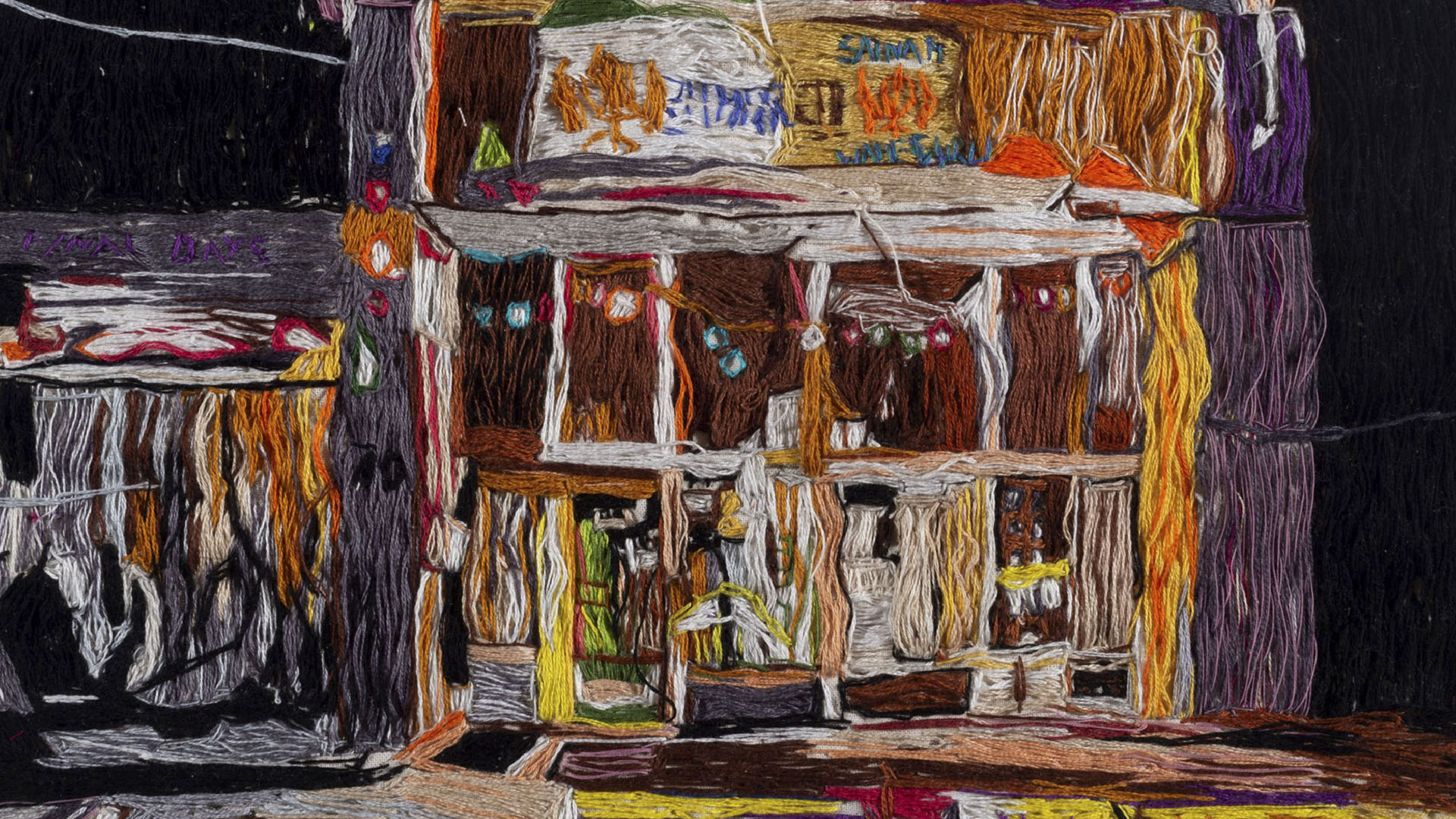 May 23.2019
August 18.2019
Featuring the work of Jagdeep Raina, Chase is a poetic exploration of the interplay of memory and migration, and of how both are mapped onto everyday landscapes. Raised and currently based in Guelph, Raina shares stories of the Sikh diaspora, drawing upon personal records and those of his family who were among the first migration to southern Ontario, as well as oral and archival histories of wider pioneering Kashmiri and Punjabi Sikh diasporic communities. Rendering these narratives cinematically as works on paper as well as embroidered tapestries, Raina evokes the textured local and transnational geographies of longing and belonging that emerge in the quest to establish home in terrain that is unsettlingly remote.
Drawing the intimate as well as collective spaces that come to constitute community in new territories, the architectures that hold and shape experiences are his frequent subject – the local homes intrinsic to family biographies, the small beer store that becomes a gurdwara and place of worship for new arrivals, the storefronts and the factories that depend on their labour. For Raina, these are also soft architectures, brimming with poignant struggle and generosity – supple elements that are somehow more material than bricks and mortar. These sites are also potent but ephemeral monuments, like the Punjabi Grocery and Deli in New York's East Village that is "elevated to the same prominence as the Statue of Liberty, Times Square, and Central Park" within the city's South Asian community yet assured none of their permanence.
Documenting such precarious histories, throughout Raina's work is a strong current of social justice. Reassessing everyday as well as darkly historical moments, he is attentive to the colonial histories within already marginalized communities, and to how the "chase for more" and the scarcity mentality that it produces can further divide and alienate castes and classes based on economic status, gender, sexuality, nationality, race and religion. Within the context of polarizing discourses on migration that dominate globally, Raina's work speaks powerfully to the possibility of "intersectional solidarities" based on collective histories of transformation.
---
In Conversation: Jagdeep Raina with Shauna McCabe
On Tuesday, December 7, artist Jagdeep Raina and Art Gallery of Guelph director Shauna McCabe discussed the AGG's touring exhibition Chase, on view at the Textile Museum of Canada until March 19, 2022. Presented in partnership with the Textile Museum of Canada, this conversation focused on how Raina's embroidered and mixed media works situate personal experiences in relation to those of the wider Sikh diaspora, moving from an exploration of migration and memory to questions of intimacy and desire.
Image detail: Jagdeep Raina, Final Days, 2019, hand embroidery on muslin, 10 x 12 in. Collection of the artist
Sponsors


Organized by the Art Gallery of Guelph with the support of the Ontario Arts Council and Canada Council for the Arts.