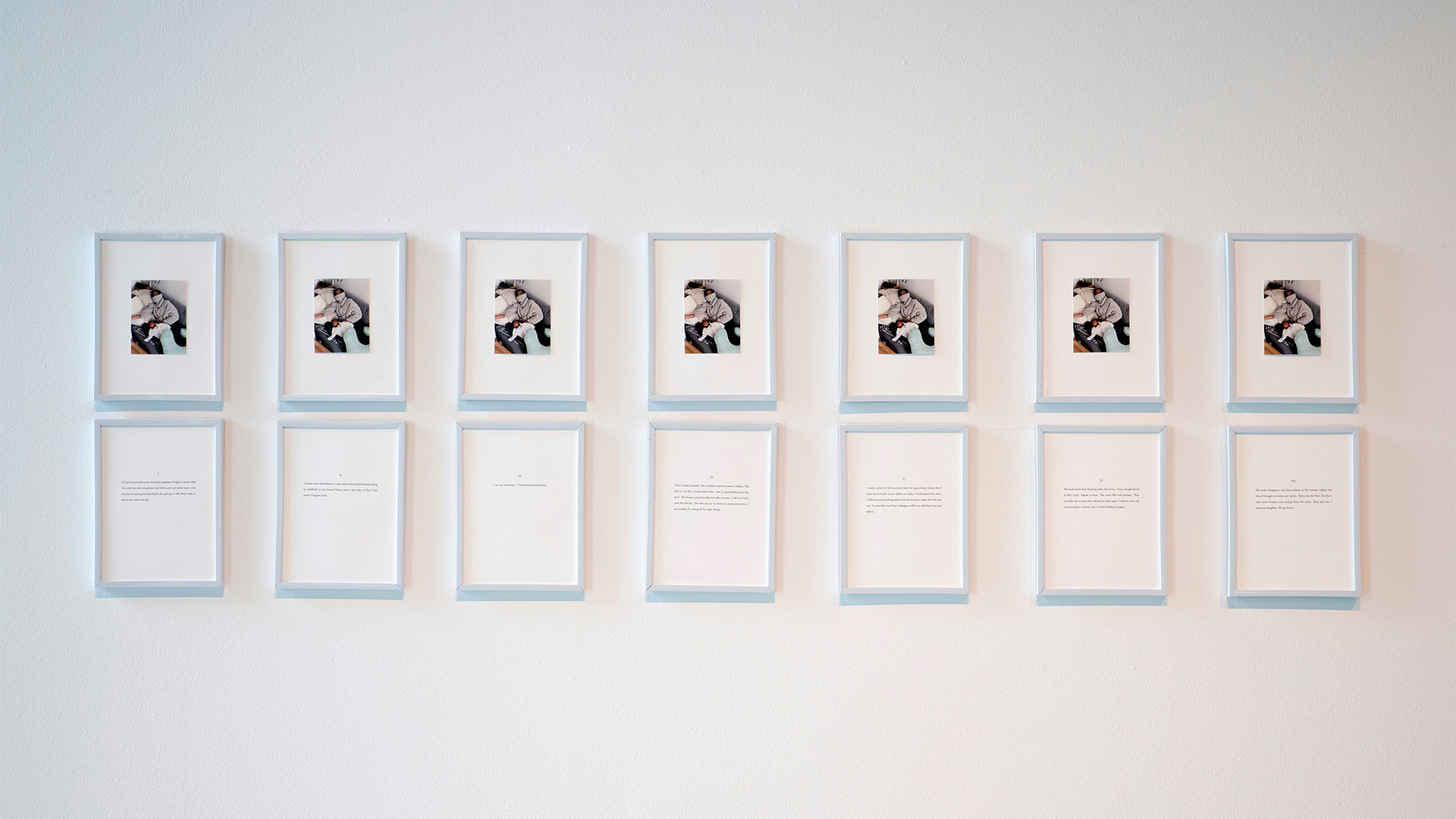 Kara Springer: Death Defying Acts and Everyday Abstractions
January 19.2023
April 30.2023
A recent Art Gallery of Guelph acquisition, this photo-based work chronicles the artist's experience of pregnancy and childbirth amid reports of high maternal mortality rates experienced by Black women in the United States. Through portraiture, repetition, and sparse yet succinct text, Springer draws attention to the ways in which racialized bodies, particularly those of Black people, are frequently met with disregard and inattention within institutional settings such as healthcare systems, subtly positing that care can serve as an antidote to this predilection.
The seven text panels within the work detail the mounting indifference and anxiety that Springer experienced while pregnant that were mitigated by the attentiveness of women of colour. Each text is paired with a repeated photographic image of the artist and her daughter Noa. Taken by the artist's mother shortly after the pair returned home following her daughter's birth, the image shows an exhausted mother and child, underscoring the toll not only of pregnancy and childbirth but the wearing physical and mental effects of living in a racialized body in a society where one is surrounded by ongoing racism, as well as the resilience and expressions of care, both internal and external, that are required to survive it.
Image: Kara Springer, Death Defying Feats & Everyday Abstractions, 2020, 14 inkjet prints, 25.4 x 20.3 cm each.
About the artist
Kara Springer
Born in Barbados, Kara Springer lives and works in Toronto and New York. Her practice is particularly concerned with armature – the underlying structure that holds the flesh of a body in place. She uses photography, sculpture, and site-specific interventions to confront and engage with architecture, urban infrastructure, and systems of institutional and political power. Springer holds degrees from the University of Toronto, OCAD University, ENSCI les Ateliers in Paris, and the Tyler School of Art, Temple University. Her work has been exhibited at the Museum of Contemporary Art (Toronto), Artists Space (New York), the Institute of Contemporary Art (Philadelphia), the National Gallery of the Bahamas, the National Gallery of Jamaica, and the Frankfurt Museum of Applied Arts. She is an alum of the Independent Study Program at the Whitney Museum of American Art and recently held a 2 year fellowship with the Core Program at the Museum of Fine Arts Houston.