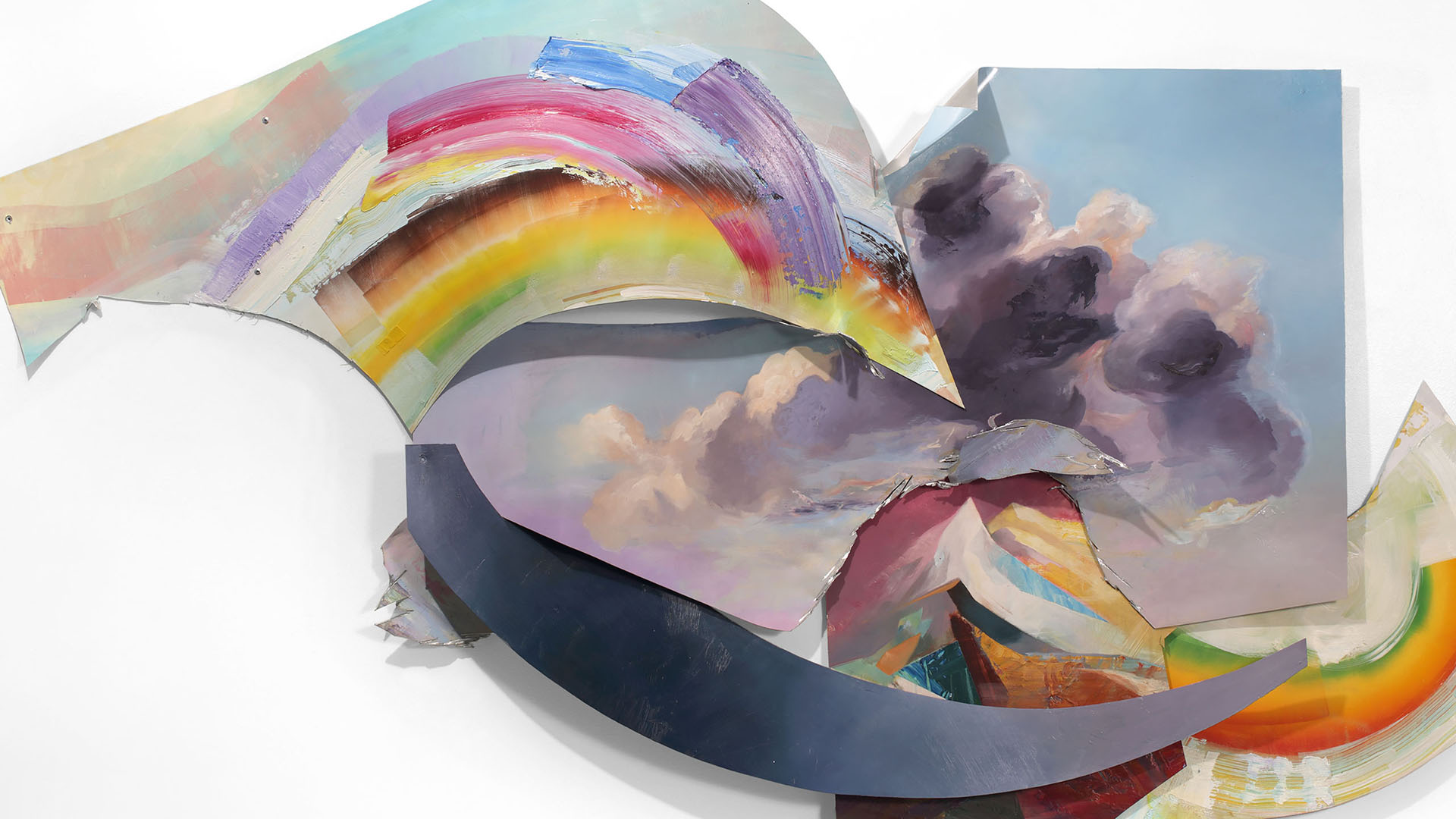 May 4.2017
August 20.2017
Featuring the work of Phil Irish, mount pile examines one of our nation's iconic geographies and landscape of extraction—the Canadian Rockies—depicted as simultaneously sublime and fractured in his site-specific installation that blends painting and sculpture.
Architecturally scaled and comprised of fragments of his painted landscapes, disassembled and torn, reassembled and pieced together, the installation extends up the wall of the AGG's 50-foot-high clerestory gallery and out into the space. Irish began this body of work following a six-week residency at The Banff Centre, drawing on storied landscapes throughout Alberta that are the expression and effect of intense earth-moving practices and the extraction of raw materials, including the Athabasca Glacier, the oil sands, and neighbouring landfill sites. Recombining the fragments and shards of his original paintings, the chopped and spliced collages offer glimpses of tailing ponds and mountain peaks, geological striations and weather systems.
In its concept and construction, mount pile mimics geological processes of creation and destruction, querying our relationship with the lands on which we live and from which we take. Part of a long trajectory of Canadian painting and presented on the occasion of Canada's 150th year, this exhibition interjects a contemporary perspective, addressing the imminent impacts of resource extraction and climate change.
Image detail: Phil Irish, Refraction (2017) oil on aluminum, 122 x 200 x 13 cm.
About the artist
Phil Irish
Based in Elora, Ontario, Phil Irish has a Masters of Fine Art from York University, Toronto (2012) and a Bachelor of Arts in Fine Art and English Literature from the University of Guelph (1995). He has shown at galleries across Canada, including the National Gallery of Canada (Ottawa), Oakville Galleries, Kitchener-Waterloo Art Gallery, Tom Thomson Art Gallery (Owen Sound), and Idea Exchange (Cambridge). His work was included at the Quebec City Biennial and twice shortlisted for the Kingston Portrait Prize. He has developed new work during residencies in Newfoundland, Quebec and, most recently, The Banff Centre in Alberta. Irish teaches studio practice at Redeemer University College, Ancaster.