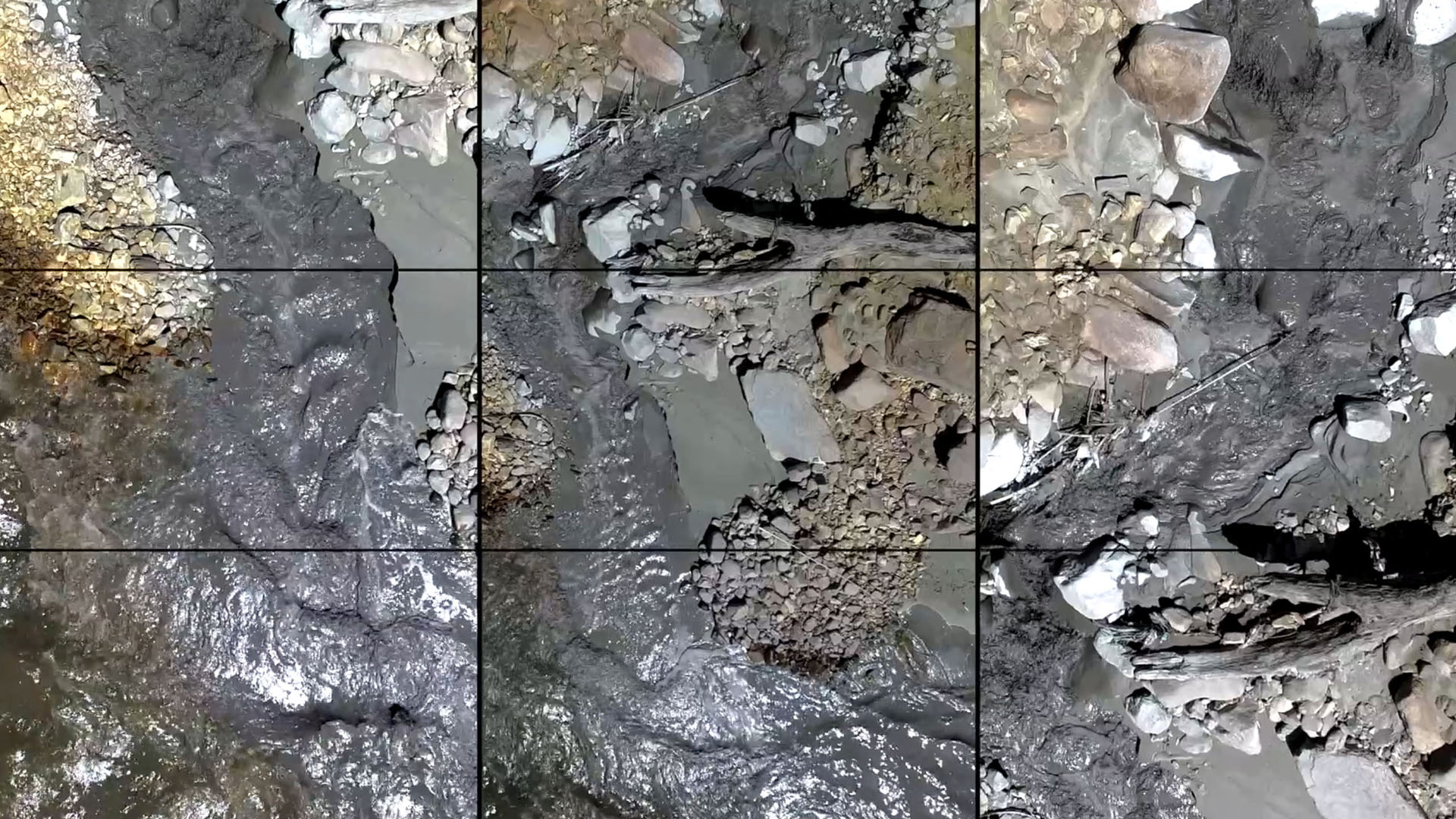 Clemencia Echeverri: Sin Cielo / Skyless
September 17.2020
January 3.2021
Falling within Clemencia Echeverri's ongoing exploration of the social dynamics, cultural practice, and history of Colombia, Sin Cielo / Skyless is a multi-channel video wall that depicts the aftereffects of mining on the Cauca River within the town of Marmato, Caldas in the country's northwest. Marmato has been the site of gold extraction for close to four centuries – operations that are now overseen by a Canadian multinational conglomerate. As a result of this continuous activity, the river has been transformed into a repository for chemical effluence such as mercury and cyanide. Through the deployment of scale, repetition, and sound, Sin Cielo adroitly conveys the extent of the ecological devastation that has befallen this region. Drawing a link between consumer desire and environmental degradation, Echeverri highlights the entanglements of economics, politics, and geography.
---
Q & A: Clemencia Echeverri
Clemencia Echeverri's video-based practice examines violence in her native Colombia. Her Q&A provides some insight into the artist and her work: here, she reflects on her relationship to form, the conceptual issues that shape her work, the inspiration behind Sin Cielo, and a current project that she is working on for Foundacion Espacio V in Mexico.
Image detail: Clemencia Echeverri , Sin Cielo / Skyless, 2017, video wall, 11:20 mins. Courtesy the artist and Sicardi Gallery
Sponsors


This exhibition is organized by the Art Gallery of Guelph with the support of the Ontario Arts Council and Canada Council for the Arts.
About the artist
Clemencia Echeverri
Clemencia Echeverri's work explores the political and social conditions of memory, loss, and violence in Colombia utilizing a variety of media including installation, video, sound and interactivity, often setting a stage for an immersive experience. She completed undergraduate studies in Colombia and earned an MFA at Chelsea College of Arts, London. She is currently working on a project related to violence against women​. Her work has been exhibited in national and international events such as the XII Biennial of Shanghai, China; Duelos a video installation in Fragmentos, Espacio de Arte y Memoria; Bienal de Arte de Cartagena; Liverpool Biennial; CENART Mexico; Daros-Latinamerica Museum; Centre of Contemporary Art Znaki Czasu, Poland; VI Bienal de la Habana, Cuba; ISEA, Helsinki and Stockholm; Rencontres Internationales France and Berlin; La Vuelta, Rencontres Internationales de la Photographie, Arles, Frances; Medellin a Colombian history, Museum Les Abbatoirs, Toulouse, and many more. Liminal, a 20-year retrospective of her work was held at Museo de Arte Miguel Urrita in Bogotá, Colombia in 2019.