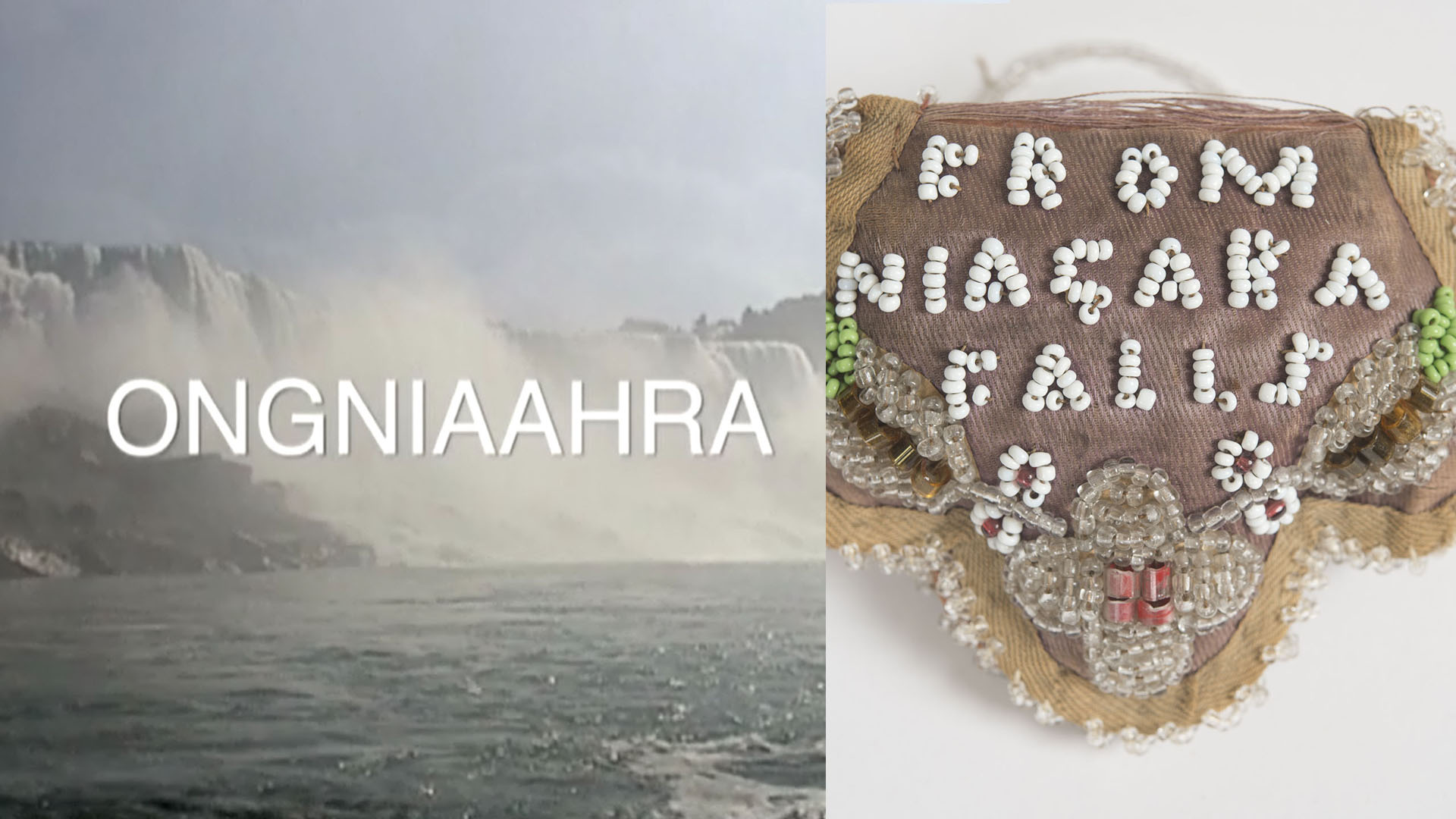 Shelley Niro: ONGNIAAHRA/Niagara
January 13.2018
February 25.2018
At Boarding House Gallery
Tuesday – Friday, 12-5 pm
Shelley Niro's exhibition at the Boarding House Gallery marks the beginning of the artist's creative residency with the Art Gallery of Guelph and Musagetes Foundation in 2018. Emerging from Niro's engagement with the AGG's extensive collection of historic Haudenosaunee beadwork donated by William Reid, the installation features Niro's 2015 video Niagara in dialogue with selections from the collection that are associated with Niagara Falls, a landscape that enticed some of the earliest European and American tourists with entertainment spectacles and souvenirs.
These finely crafted and detailed artworks were produced by women primarily for the souvenir trade. Many of these items were sold at Niagara Falls in the late 18th and early 19th centuries, the beginning of a period when Indigenous cultural practices were banned in Canada under The Indian Act and systematically suppressed through the residential school system. Producing and selling souvenir beadwork was a means to support family and community while maintaining craft traditions. "These works," according to Niro, "are about poverty."
About the artist
Shelley Niro
Shelley Niro is a Brantford-based multi-disciplinary artist whose work focuses on Indigenous identity, history and rights imbued with a deeply feminist perspective and rich humour. Niro is a member of the Six Nations Reserve, Turtle Clan, Bay of Quinte Mohawk. Her work encompasses filmmaking, photography, painting, sculpture, beadwork, and new media. Shelley Niro: ONGNIAAHRA/Niagara is presented in conjunction with 150 Acts: Art, Activism, Impact.