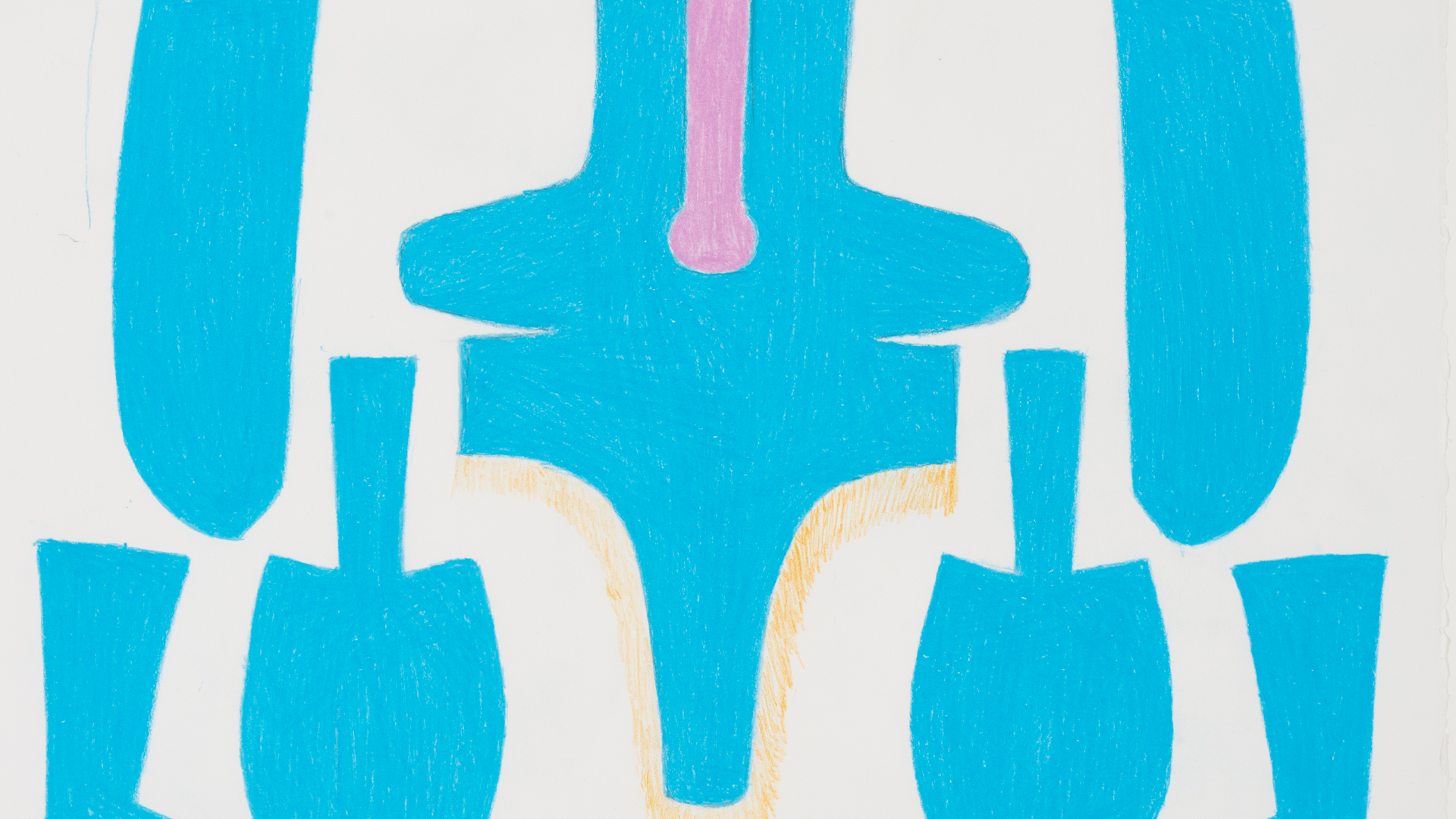 Foundations
A selection of contemporary Inuit art from AGG's collection- which became the focus of Nancy Campbell's curatorial career.
Curated by
Nancy Campbell
As one of the former curators at the Macdonald Stewart Art Centre, now the Art Gallery of Guelph, I had the privilege and pleasure of being introduced to contemporary Inuit art under the tutelage of the founding director, Judith Nasby. Although this was not an area of my expertise at that time, it was by happenstance and exposure, through an early trip to Qamani'tuaq (Baker Lake) in 1994, that contemporary Inuit drawing became the focus of my curatorial and academic career. The selections I made here were pivotal in this foundation, ultimately refocusing my understanding and expectation of Inuit art. I remember clearly the purchase of Oviloo Tunnillie's Size 12, which I remember as being titled Gucci Loafer, carved out of exquisite pink marble from the Kinngait (Cape Dorset) region. The memorable purchase of Barney Visits a Winter Camp by Ruth Annaqtuusi Tulurialuk was made in Qamani'tuaq after meeting the artist. Qavavau Manumie's NASA Graveyard remains the catalyst that resulted in my looking at Inuit drawing in a new way. My seven-year tenure at the gallery was the springboard that resulted in a fifteen-year pilgrimage to the West Baffin Eskimo Cooperative in Kinngait and deep work on artists Annie Pootoogook and Shuvinai Ashoona. Reviewing the holdings of the collection at the Art Gallery of Guelph reminds me of the power art can have in changing the understanding of the world we live in.
Image detail: Jessie Oonark, Cutout Pieces for an Amautiq, Hood and Socks (schematic clothing patterns), 1978, coloured pencil on paper. Purchased with funds donated by Blount Canada Ltd., 1980, Macdonald Stewart Art Centre Collection at the Art Gallery of Guelph
Artists
Jessie Oonark
Qavavau Manumie
Pudlo Pudlat
Annie Pootoogook
Ruth Tulurialuk
Oviloo Tunnillie
Lucy Tutsweetok
Shuvinai Ashoona
Curator Bio
Nancy Campbell
Nancy Campbell has been an independent curator and writer on contemporary and Inuit art since 1993. She was curator at the Macdonald Stewart Art Centre (now the Art Gallery of Guelph); director of the Doris McCarthy Gallery, University of Toronto Scarborough; adjunct curator at The Power Plant Contemporary Art Gallery, Toronto; and curator of special projects at the Art Gallery of Ontario. From 2014 to 2015 she served as the editor of the Inuit Art Quarterly. Campbell holds a master of arts from the University of British Columbia in arts education and a doctorate from York University in art history. Her dissertation analyzed the drawings of third-generation Inuit artists Annie Pootoogook and Shuvinai Ashoona.