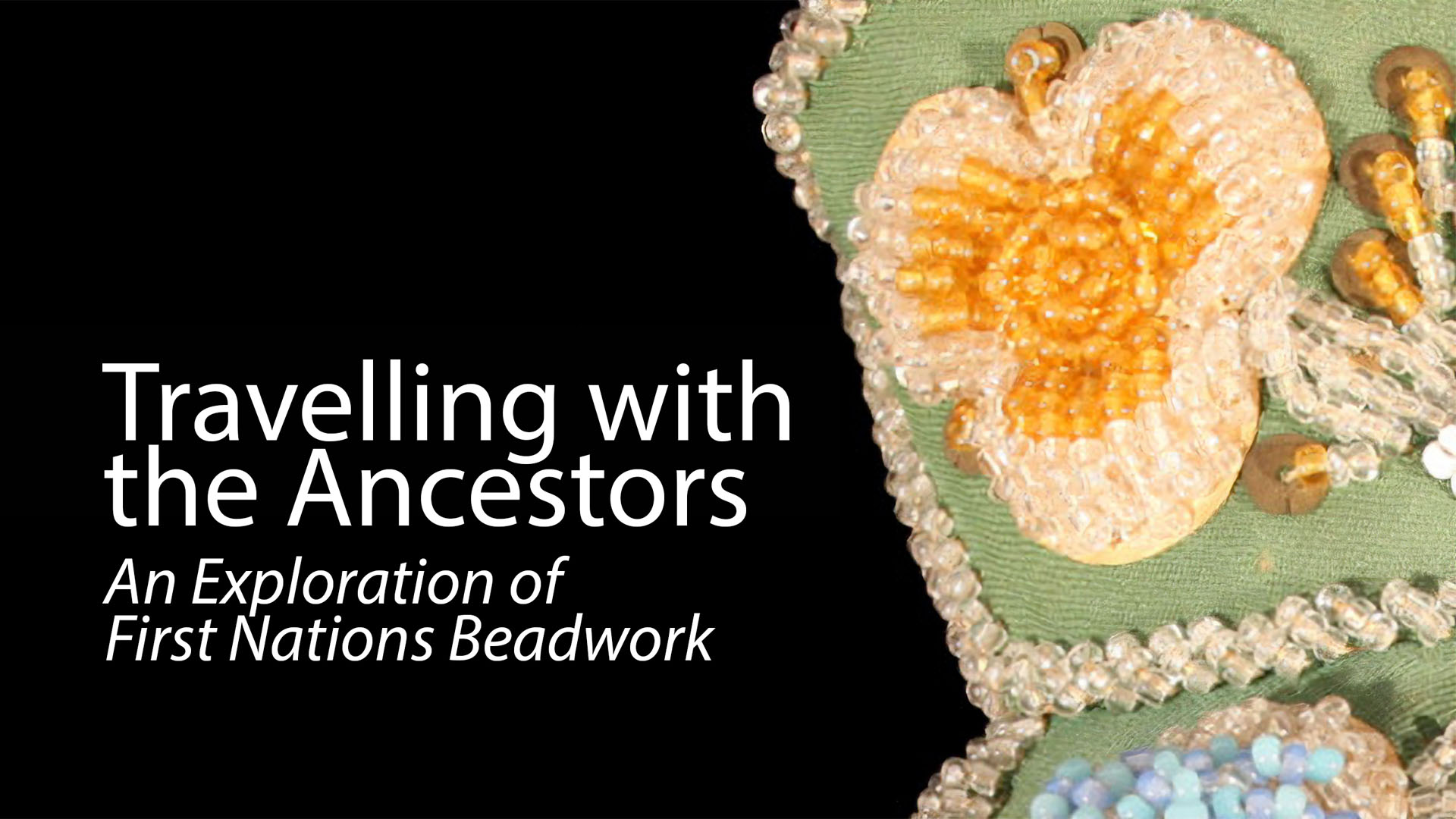 Travelling with the Ancestors: An Exploration of First Nations Beadwork
Exhibition curated and text composed by First Nations artist and educator Naomi Smith (Neyaashiinigmiing, ON).
The Art Gallery of Guelph is pleased to announce a major gift from William Reid to the Macdonald Stewart Art Centre Collection by featuring the exhibition, Travelling with the Ancestors, a selection of over 70 Native beadwork pieces drawn from The William Reid Collection.
Travelling with the Ancestors traces the visual evolution of historical Woodlands and Northeastern Native beadwork. From the time glass beads were introduced to the Indigenous people of North America an exceptional art form emerged. The creation of objects generously embellished with glass seed beads, using traditional and floral motifs, became a treasured commodity and a source of positive interactions between the Native and non-native Victorians. These pieces often took their place in the Victorian household as highly decorative, functional forms. Popular objects were most coveted including purses, wall pockets, whisk broom holders, picture frames, containers, hat pin cushions, and sewing pin cushions.
During the early 19th century the traditional Native way of life was being eroded. Hunting grounds gave way to non-native settlement. First Nations people were moved to small communities and reservations and, inevitably, the process of assimilation into the new non-native society began. The business of creating and selling beadwork was in fact one of the first true cottage industries that allowed Native women to feed their families during this period of adaption and great change.
Beadwork made for the tourist trade reached its peak of popularity in the late 1800s. In the early 1900s Native beadwork became more simplified and the beads used were larger than in times past. By 1920-1930, the production of beadwork was in decline. Less souvenir work was being produced as Native people found other ways to survive and assimilate into mainstream society.
Beadwork has become a positive symbol of cultural and personal expression. Its creation and evolution are notable and positive developments that occurred during the early days of contact with the non-native peoples. As a visual journey through time, bread has enamoured people from all walks of life. The historical objects that remain are a testament to an ongoing exchange, love, and appreciation. It is a living journey.
About The William Reid Collection: About 35 years ago, William Reid bought his first examples of First Nations beadwork. He says: "The more I learned about the history of the beadwork, the artistry and imagination of the makers, and the talent required to produce these pieces, the more I came to appreciate them. So the collection grew." Drawing on his experience with cleaning and conserving textiles, Bill learned how to restore the historical beadworks that he acquired. The collection now numbers over 300 pieces.