A Retrospective with Isaac Murdoch
Uprising is a mid-career retrospective of the work of Michif (Métis) visual artist Christi Belcourt. It brings together over 30 paintings, calling attention to her creative achievements over 25 years of art-making. The exhibit is complemented by the work of knowledge holder, storyteller, and artist Isaac Murdoch, whose iconic images, such as Thunderbird Woman, have become symbolic of the Indigenous resistance movement against resource extraction.
Celebrating Belcourt's profound respect for the natural environment, the exhibition charts Belcourt's practice from the early to late 1990s and her explorations of land, water, and medicinal plants traditionally used by the Métis people. In the early 2000s, she began referencing Indigenous and Métis beadwork in large-scale paintings using floral motifs. In works such as Four (2004) and The Conversation (2002), Belcourt simulates the technique of beading by dipping the end of a paintbrush or knitting needle into paint and dotting the canvas, one "bead" at a time. The black background of these works references the black velvet onto which 19th century Métis artists sewed appliqué to emphasize the beaded flowers' vivid colours. Belcourt's paintings entice viewers to contemplate the diversity, complexity, and beauty of plants, as well as their own relationship to Mother Earth.
Belcourt's practice expanded to include collaborations with Murdoch. In November 2014, along with artist Erin Konsmo, they formed the Onaman Collective. The Collective organizes community art builds, working alongside community members to screen-print and paint banners, tell stories, learn languages, and share food. The banners not only demonstrate the artists' use of art to empower water and land protection action, they show how art can be accessible at grassroots and international levels. Belcourt and Murdoch's work is a testament to the power of evocative art and its ability to motivate people to rise up and take action.
This national touring exhibition is co-produced by Thunder Bay Art Gallery and Carleton University Art Gallery
---
Gaa-Gii-Bi-Izhininang gaye Isaac Murdoch
Miziwe omaa kaanada akiing izhaamagan owe waabanda'iwewin animikii-wiikwedong mazinibii'iganan waabanda'iwewigamig gaye Carleton gichi-gikendaasoowigamig mazinibii'iganan waabanda'iwewigamig oniizhoo-ozhitoonaawaa
Nadia Kurd o-gii-ozhisidoonan ge-waabanjigaadegin mazinichiganan
Bazigwiiwin amii ezhinikaadeg gaawaabanda'iweng Christi Belcourt Wiisaakodewikwe omazinibii'iganan aabitawiya'iing e-ayaad obimaadiziwining. Awashime 30 minik mazinibii'iganan da-agoodewan ji-waabanda'iweng awashime 25 daso-biboon e-giidazhikang. Gaye awe gaa-maawadoonang gikenjigewin, dibaajimowin gaye mezinibii'iged inini Isaac Murdoch, bezhig Animikiikwe izhinikaadeni omazinibii'igan, amii dash iwe mazinibii'igan gaa-aabadak ji-gagwegibitinigaadeg gii-odaapinigaadeg gegoo akiing onji.
Aapiji Belcourt ogichi-inenimaan Gimaamaanaan Aki, amii dash gaa-izhichiged Belcourt gii-maajiseg 1990 biinish gegaa gii-ishkwaaseg e-gi-mazinibii'ang aki, nibi gaye mashkikiin gaa-gii-aabajitoowaad Wiisaakodewininiwag. Apii 2000 gii-maajiseg, gete-Anishinaabe gaye gete-Wiisaakodewinini mazinigwaasowinan o-gii-onjimazinibii'aanan gichi-mazinibii'iganan waabigoniin e-gii-mazinibii'ang. Iwe Niiwin (2004) gaa-izhinikaadeg gaye Gaganoonidiwin (2002), daabishkoo mazinigwaasowin ezhinaagwaninig omazinibii'igan Belcourt, bepezhig jakibii'igan e-aabajitood daabishkoo bepezhig manidoominens. Makadewibii'ige nitam jibwaa-mazinibii'ang waabigwaniin, daabishkoo makadewegin gaa-gii-izhiapigwaadamowaad Wiisaakodewikweg mewinzha 1900 jibwaa-izhiseg, ji-bagakinaagwakin mazinigwaasowinan nawach. Belcourt omazinibii'iganan izhi-naagwan epiichi-wawaanizhishingin waabigoniin, epiichi-bepakaan izhinaagwakin gaye dash Gimaamaanaan Aki e-izhi-dibendaagwakin gakina.
Belcourt o-gii-maajii-wiidanokiimaan Murdochan. Gashkadinogiizis gii-bimangizod 2014 gii-izhiseg, o-giiozhitoonaawaa izhichigewin Onaman Collective e-izhinikaadeg, mazinibii'iged Erin Konsmo dago. Iwe Onaman wiiji'iwemagan ji-ozhichigaadegin gakiiwe'onan dazhiikewining, ji-dibaajimong, jinitaa-anishinaabemong gaye ji-wiidoopamiding. Odizhinizha'aanaawaan ini gakiiwe'onan aaniindig, e-maajiinizha'amowaad gemaa e-izhiwidoowaad aaniindi ge-izhi-aabadakin maamawigaabawing. Gii-aabajichigaadegin ini gakiiwe'onan waabanjigaade e-aabadak mazinibii'igewin ji-ombinigaadeg gii-naadamaading nibi gaye aki, amii gaye ezhi-waabanjigaadeg bizaanigo mazinibii'igewin daa-miigiwem awenen igo waa-aabajitood omaa gaye waasa agaamakiing. Belcourt gaye Murdoch omazinibii'igewiniwaa gaye odanokiiwiniwaa izhi-naagwan e-gitaabadak mazinibii'igewin, jigashkichigaadeg ji-ombi'indwaa bemaadiziwaad ji-bazigwiiwaad ji-izhichigewaad gegoo.
---
Uprising: In conversation with Christi Belcourt
On September 29, 2020, the Art Gallery of Guelph hosted a virtual conversation with artist Christi Belcourt. Surrounding the exhibition Uprising: The Power of Mother Earth – a mid-career retrospective Christi Belcourt's work – the artist was be joined in conversation by Anishinaabe educator Colinda Clyne to talk about the vital role of art in relation to land-based practices and how they support environmental and social justice.
Image detail: Christi Belcourt, This Painting is a Mirror, 2012, acrylic on canvas, 206 x 256 cm. Collection of Crown-Indigenous Relations and Northern Affairs Canada (Photographer: Lawrence Cook)
Sponsors

Uprising is presented by the Art Gallery of Guelph with the support of Canadian Heritage.
---
Gallery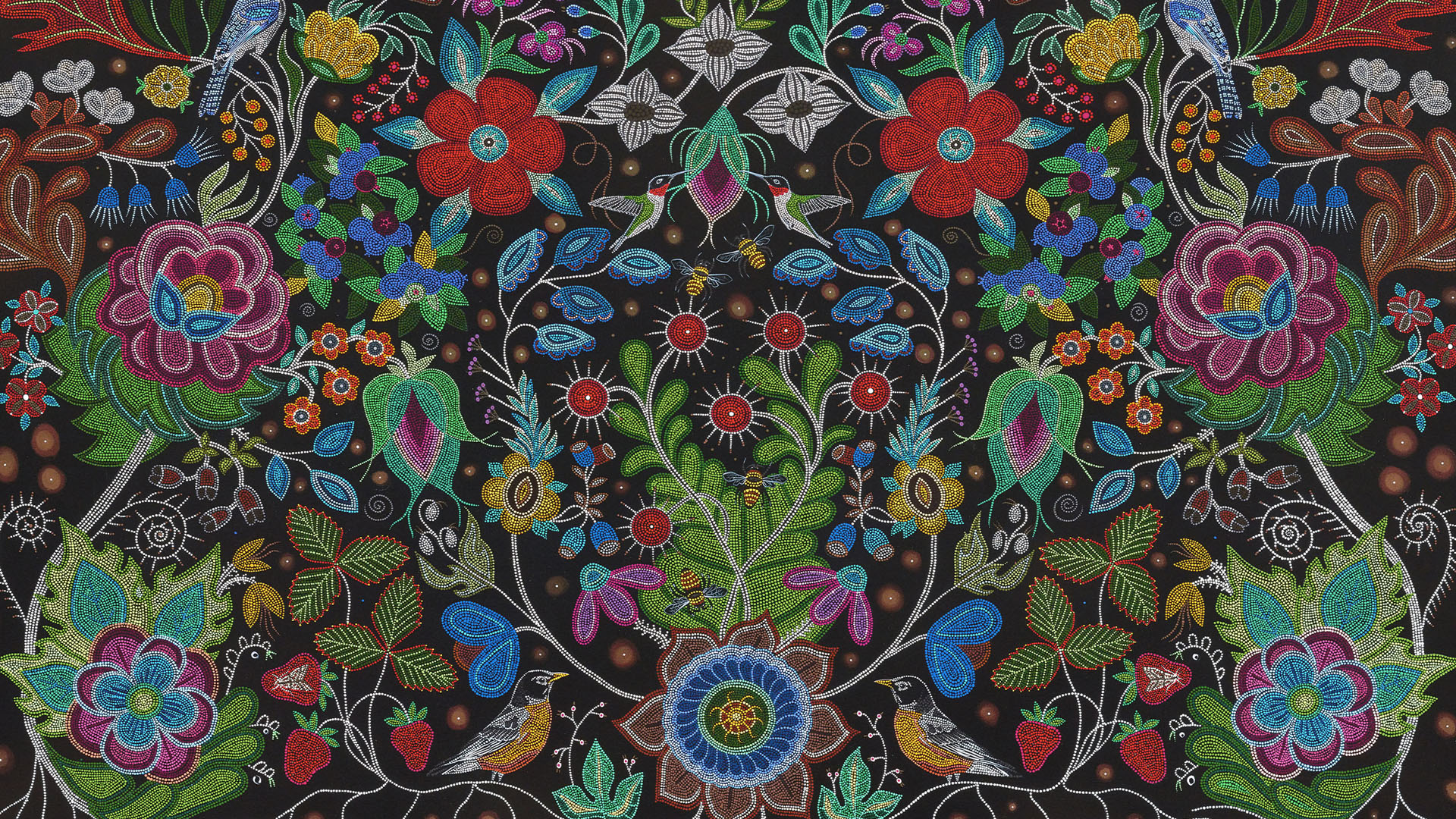 ---
Uprising: In Conversation with Christi Belcourt
---
About the artist
Christi Belcourt
Christi Belcourt (apihtâwikosisâniskwêw / mânitow sâkahikanihk) is a visual artist, designer, community organizer, environmentalist, social justice advocate, and avid land-based arts and language learner. Her ancestry originates from the Metis historic Cree speaking community of Manitou Sakhigan (Lac Ste. Anne) Alberta, Canada. Raised in Ontario, Christi is the first of three children born to political Indigenous rights leader Tony Belcourt and Judith Pierce Martin. Her brother Shane Belcourt is a respected filmmaker and her sister Suzanne is a graphic designer and emerging visual artist.
Like generations of Indigenous artists before her, the majority of her work explores and celebrates the beauty of the natural world and traditional Indigenous world-views on spirituality and natural medicines while exploring nature's symbolic properties. Following the tradition of Metis floral beadwork, Belcourt uses the subject matter as metaphors for human existence to relay a variety of meanings that include concerns for the environment, biodiversity, spirituality and awareness of Métis culture. Although known primarily as a painter, she has for years been also practicing traditional arts in an informal way. Working with beads, hides, clay, copper, wool trade cloth and other materials. Most recently with birch bark, ochre, quills and tattoo ink.