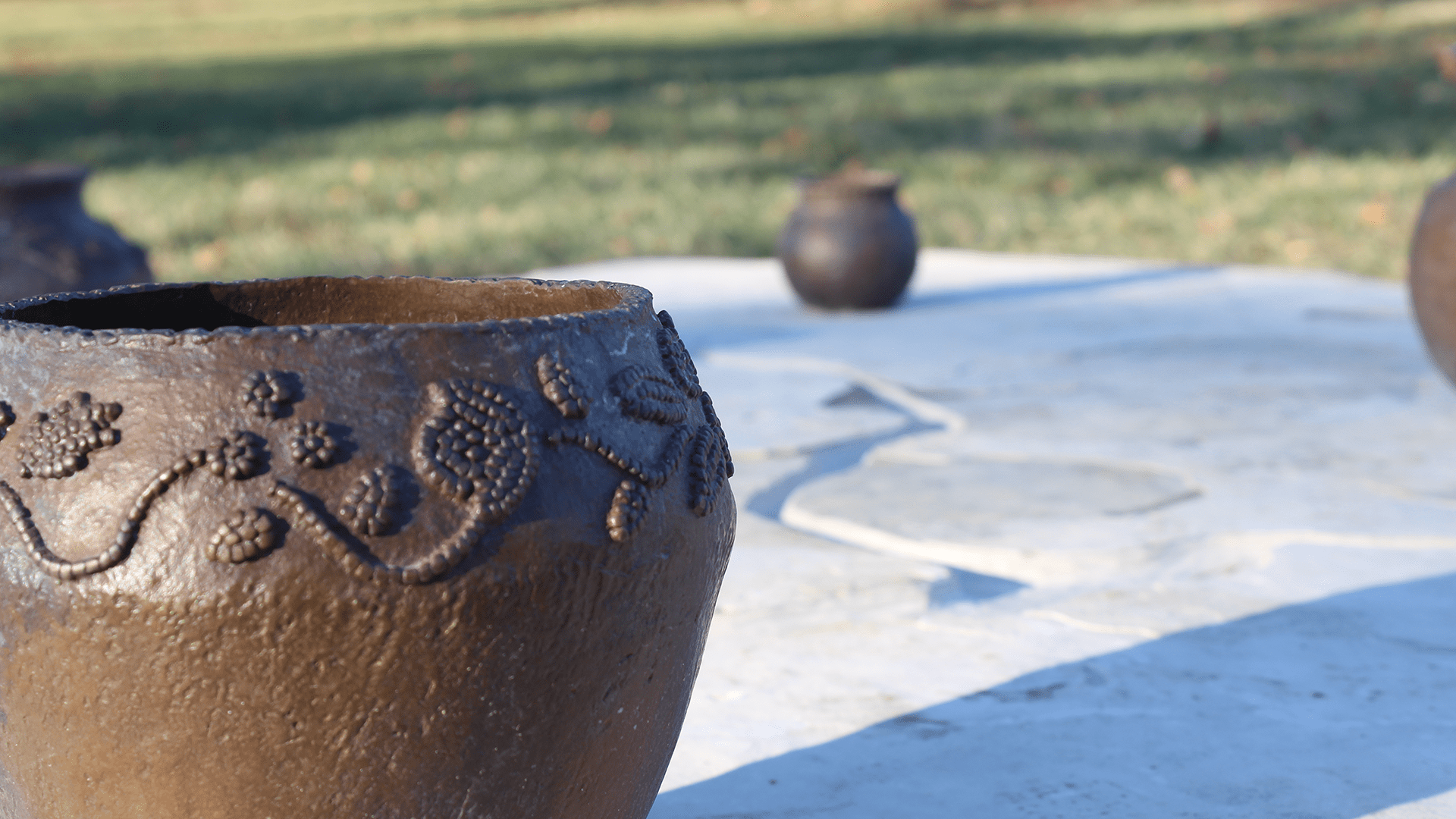 KC Adams Maada'oonidiwag (Coming together)
Art Gallery of Guelph launches Maada'oonidiwag (Coming together) by artist KC Adams.
The Art Gallery of Guelph (AGG) is pleased to announce the launch of the 41st installation in the Donald Forster Sculpture Park. Maada'oonidiwag (Coming together) was created by artist KC Adams and features five bronzes cast from clay vessels that rest on a limestone base etched with the intersecting paths of the Speed and Eramosa rivers that shape the landscape of Guelph. For Adams, who is Anishinaabe, Nêhiyaw, and British, the practice of creating clay pottery using the techniques of her ancestors is a means to ensure traditional ways of life and teachings inform the contemporary as well as the future.
As these ancient ceramic vessels are still found intact today secreted along riverbanks and in shards on and in the earth, the sculpture also speaks to how memory is anchored in place, imagining the archaeological traces of Indigenous gathering places and trade networks that still inform landscapes today. Highlighting questions raised in the interplay of experiences, stories, and evidence, the installation also speaks to the importance of seeking the complexities within histories as they are presented.
Image detail: KC Adams, Maada'oonidiwag (Coming together), detail, 2022, bronze and limestone, dimensions variable.
Sponsors
The Art Gallery of Guelph is grateful for the generous support of Joan and George Todd whose gift through the Florence G. Partridge Fund at the University of Guelph made this commission possible. The gallery's artistic programs are presented with the support of the Canada Council for the Arts, Ontario Arts Council, and Canadian Heritage.
Artist Bio
KC Adams
Based in Winnipeg on Treaty 1 territory, KC Adams graduated from Concordia University with a Bachelor of Fine Arts, and works today across media that include sculpture, installation, drawing, painting, photography, ceramics, digital technology, and printmaking. In 2014, she began to study and experiment with Indigenous ceramic traditions – a creative investigation that still informs her practice and research as a candidate in the Master of Arts in Cultural Studies program (curatorial stream) at the University of Winnipeg. Adams' work has been featured in numerous solo and group exhibitions and is represented in private and public collections nationally and internationally. Recently commissioned to design the terrazzo floor of the Roundhouse within the Red River Innovation Centre in Winnipeg, Adams is also a Senate 150 Medal recipient for Perception, a photo-based project addressing the discrimination of Indigenous peoples.