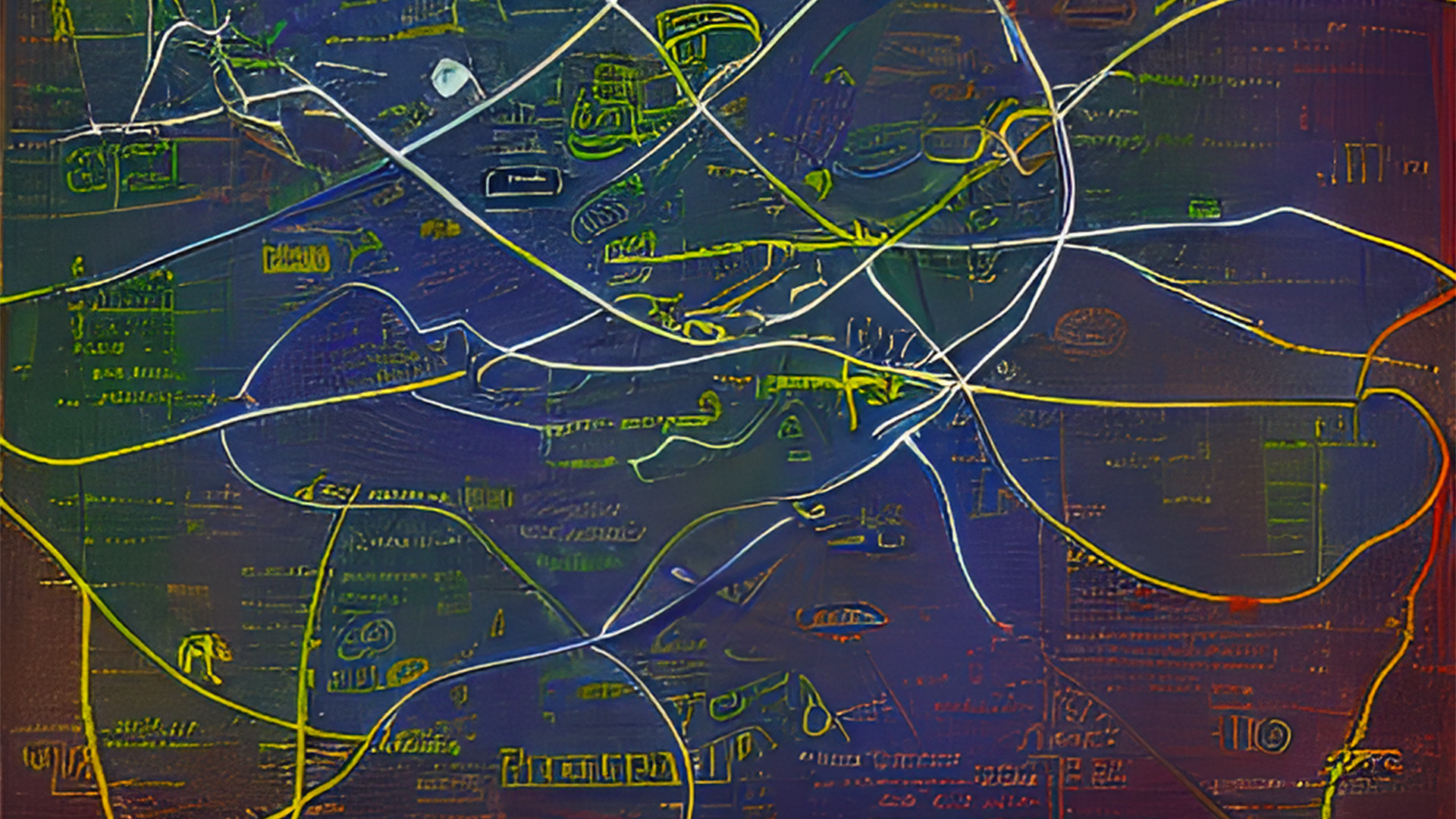 Cross-Border Dialogues
Launching in the fall of 2023, Cross-Border Dialogues features a series of conversations connecting curators and programmers in the United States and Canada.
Coming soon! Launching in the fall of 2023, Cross-Border Dialogues features a series of conversations connecting curators and programmers in the United States and Canada from institutions including the Art Gallery of Ontario, the Whitney Museum of American Art, the Brooklyn Museum, and Museum of Contemporary Art Chicago, organized by Sally Frater of the Art Gallery of Guelph.
Responding to the obligations that arts organizations have as localized public institutions in a global context, participants include those who have built professional development programs geared towards emerging curators from economic, racialized, and gendered marginalized demographics, those who have developed departments and practices that rigorously examine the work of Black and Indigenous artists, and practitioners who have raised the level of discourse around global Latine/Latinx artistic practices in Canada and the United States.
Check back for the schedule!
Sponsors


This program is presented by the Art Gallery of Guelph with the support of the Canada Council for the Arts through the Sector Innovation and Development program and Guelph Community Foundation.
About the presenters
Daniel Atkinson
Daniel Atkinson is an educator, public programmer, and publisher. Originally from Minnesota, he is of mixed European settler and Mexican heritage. Atkinson is currently the Manager of Learning, Adult Interpretive Programs at the Museum of Contemporary Art Chicago, and the Co-Director, Education and Public Programs, of the Minneapolis-based Emerging Curators Institute. Atkinson has held several positions at several art institutions throughout the US, including the Walker Art Center in Minneapolis, the Contemporary Arts Museum Houston, the Art Institute of Chicago, and at Dia:Beacon, the Museum of Modern Art, and the Museum of the Moving Image across New York. He has degrees in Studio Arts (BA, U. of Minnesota), Art Education (MA, NYU), and Leadership in Museum Education (MS, Bank Street, NY).
Marcela Guerrero
Marcela Guerrero is Assistant Curator at the Whitney Museum of American Art in New York. Prior to joining the Whitney, she was a Curatorial Fellow at the Hammer Museum in Los Angeles working on the exhibition Radical Women: Latin American Art, 1960-1985. She has also been a Research Coordinator at the International Center for the Arts of the Americas, Museum of Fine Arts, Houston. Her writing has appeared in exhibition catalogues and art journals such as caa.reviews, ArtNexus, Caribbean Intransit: The Arts Journal, Gulf Coast: A Journal of Literature and Fine Arts, and Interventions: International Journal of Postcolonial Studies. Born and raised in Puerto Rico, Guerrero holds a Ph.D. in Art History from the University of Wisconsin, Madison.
Michelle Jacques
Michelle Jacques is the Head of Exhibitions and Collections/Chief Curator at Remai Modern, Saskatoon. Recent and upcoming projects at Remai Modern include Ken Lum: Death and Furniture (2022) and Denyse Thomasos: just beyond, both co-organized with the Art Gallery of Ontario, and The Middle of Everywhere, an exploration of the art of the Great Plains collaboratively developed by the Remai Modern curatorial team. Previously, she was Chief Curator at the Art Gallery of Greater Victoria (AGGV), where she was responsible for guiding a curatorial and education program linking contemporary practices, ideas, and issues to the gallery's historical collections and legacies. At the AGGV, she facilitated projects with a range of contemporary artists; co-curated major retrospectives of the work of Anna Banana and Jock Macdonald; and developed a series of installations that used the AGGV's collection to evoke cross-temporal and cross-cultural conversations. Before moving west, she held roles in the Contemporary and Canadian departments of the Art Gallery of Ontario, Toronto; was the Director of Programming at the Centre for Art Tapes in Halifax; and taught courses in writing, art history, and curatorial studies at NSCAD University, University of Toronto Mississauga, and OCAD University. She is currently the Vice-President of Inclusion and Outreach with the Association of Art Museum Curators.
Nicole Neufeld
Nicole Neufeld is the Community Engagement Coordinator at the Art Gallery of Guelph. Previously, she held positions at the River Run Centre, Guelph, as the Program Manager of Development and Marketing, the Kitchener-Waterloo Art Gallery as the Director of Public Programs, Museum of Contemporary Art, Toronto as Head of Membership and Development, the National Gallery of Canada as a Research Assistant, and Carleton University as an Independent Curator. She has a Master of Arts in Art History from Carleton University and a Bachelor of Arts from the University of Guelph, where her academic research focused on contemporary Canadian art, problematizing constructions of national identity through the lens of critical race theory. Current and past programs include Walking as Remapping series of artist led walks (2022), MusicWorks|StageWorks youth mentorship in performance (2019, 2021), coorganizing conferences such as Spectres of History (2022) and Complicated Entanglements: Rethinking Pluralism in the 21st century (2008), and sitting on the editorial committee for author/artist collective Publication Studio Guelph (2014 – 2018).
Ryan Rice
Ryan Rice, a Mohawk of Kahnawake, Quebec received a Master of Arts degree in Curatorial Studies from the Center for Curatorial Studies, Bard College, New York, graduated from Concordia University with a Bachelor of Fine Arts and received an Associate of Fine Arts from the Institute of American Indian Arts, Santa Fe, New Mexico. He has worked for the past 18 years within the museum/art gallery milieu at various centers including the Iroquois Indian Museum, Indian Art Centre, Carleton University Art Gallery and the Walter Phillips Art Gallery. He has published articles in the periodicals – Canadian Art, Spirit, Fuse, Muse and Blackflash and numerous catalogues. Rice was also a co-founder and former director of the Aboriginal Curatorial Collective. His exhibitions include ANTHEM: Perspectives on Home and Native Land, Oh So Iroquois, Scout's Honour, LORE, Hochelaga Revisited, ALTERNATION, Soul Sister: Reimagining Kateri Tekakwitha and Counting Coup. From 2009 – 2014, he was the Chief Curator the Museum of Contemporary Native Arts in Santa Fe, New Mexico. In August 2014, Rice was appointed Chair of Indigenous Visual Culture program at the Ontario College of Art and Design University in Toronto. He was also named 2014-15 Audain Aboriginal Curatorial Fellow at the Art Gallery of Greater Victoria.
Tamara Toledo
Tamara Toledo is a Chilean-born Toronto-based curator, scholar, and artist, graduate of OCAD University and holds an MFA from York University. Toledo is co-founder of the Allende Arts Festival and of Latin American Canadian Art Projects – LACAP. For over a decade, Toledo has curated numerous exhibitions offering spaces, platforms and opportunities to Latin American and diasporic artists. She designed and curated the Latin American Speakers Series inviting internationally renowned contemporary artists, writers, theorists, and curators to Toronto such as Gerardo Mosquera, Luis Camnitzer, and Tania Bruguera, among many others to articulate and discuss issues of identity and intercultural dynamics in contemporary art. Toledo has presented her work at various conferences in Montreal, Chicago, New York, Vancouver and Toronto. Her writing has appeared in ARM Journal, C Magazine, Fuse and Canadian Art. Her practice often follows an interdisciplinary approach and touches on notions of memory, identity, diasporas, issues of power and representation, trauma, and international artisticcultural interaction. Toledo is currently the Curator of Sur Gallery and is a PhD candidate in Art History and Visual Culture at York University.
Sally Frater
Sally Frater holds an Honours BA in Studio Art from the University of Guelph and an MA in Contemporary Art from The University of Manchester/Sotheby's Institute of Art. The daughter of immigrants from the Caribbean, curatorially she is interested in decolonization, space and place, Black and Caribbean diasporas, photography, art of the everyday, and issues of equity and representation in museological spaces. She has curated solo and group exhibitions for institutions such as the Art Gallery of Guelph, the Ulrich Museum of Art, the McColl Center for Art and Innovation, Glassell School of Art at the Museum of Fine Arts, Houston, Justina M. Barnicke Gallery at the University of Toronto, Project Row Houses, and Centre[3] for Artistic and Social Practice. A former resident in the Core Critical Studies fellowship at the Glassell School at the Museum of Fine Arts, Houston Frater has also completed fellowships and residencies at the UT Dallas Centraltrak, Southern Methodist University, Project Row Houses and Art21. The recipient of grants from the Canada Council for the Arts, the Ontario Arts Council, the Toronto Arts Council, and the Andy Warhol Foundation for the Visual Arts she is a member of the Association of Art Museum Curators and is an alumna of Independent Curators International. The curator of contemporary art at the Art Gallery of Guelph and co-director of Artistic Programs at Emerging Curators Institute, she recently co-curated the Art Gallery of Ontario exhibition Denyse Thomasos: just beyond with Renée van der Avoird and Michelle Jacques.